Haydale files graphene conductive ink anti-counterfeiting patent
UK-based graphene producer Haydale has filed a UK patent application for its PATit anti-counterfeiting technology. The tech utilizes proprietary software codes and graphene-based conductive ink. The combination of Haydale's ability to formulate bespoke graphene-based transparent conductive inks and its proprietary software developed inhouse allows an anti-counterfeiting device to "read" Haydale's unique ink when printed onto a product label, or any material, including metals, in order to prove the authenticity (or otherwise) of the product. Crucially, the transparent nature of the conductive ink is, Haydale believes, an important USP in exploiting this market as it will not alter products' package design. The verification of a product is carried out using the capacitive touchscreen capability of a smart phone or tablet which has downloaded a special API code that enables the reader to measure the encoded graphene based ink.
Flame retardant graphene fabric developed
Shanghai Kyorene New Material Technology has developed a graphene fiber that has been used to produce clothes, sportswear and underwear products. The company has also recently developed flame retardant textiles based on their product.
Graphene Quantum Dots company signs MOU
Dotz Nano Limited has signed a non-binding and non-exclusive MoU with Colorplastic SA for the implementation of GQDs into the polymer and surface modificant market. The MoU calls for a 6-month pilot project in which GQDs will be supplied by Dotz to Colorplastic for integration into their products for use in the polymers and surface treatment being commercialized by Colorplastic for use by OEMs. The scope of the pilot is to be defined by the parties, but is to cover the technological development and adaptation of GQDs to Colorplastic's products, including production runs for validating commercial scale.
Chinese graphene producer announces pilot production
China Carbon Graphite Group, Inc. a producer of graphene and graphene oxide, has announced a pilot scale production of high quality graphene oxide was successfully undertaken in a collaboration with Hunan University. The Company has collaborated with Hunan University on the graphene research since 2012, and was able to previously produce graphene oxide in a multiple-step process. Now the Company integrates multiple steps into only one process in a less than medium pilot scale. "We are pleased to achieve this great success. We believe it is an important milestone for the Company and has laid a sound foundation for us to take further steps so as to deploy a full automotive large scale pilot production in this industry field in the near future." said Donghai Yu, Chief Executive Officer of China Carbon.
He continued, "market demands for graphene are expected to be between $195 million to $1.3 billion with high growth rate in the next 5 years beginning from 2018. It is our vision to produce 10,000 metric tons of graphene oxide once we secure sufficient capital support."
US Company granted graphene biosensors patent
Nanomedical Diagnostics, a life science company pioneering the use of label-free graphene biosensors in the healthcare industry, announces the grant of U.S. Patent No. 9,765,395 by the United States Patent and Trademark Office. The patent covers use of graphene biosensors with DNA probes to detect nucleic acids, and it builds on a previous comprehensive patent for monitoring biomolecular interactions on which the company's flagship product, the Agile R100 personal assay system, is based. The new patent enables the company's graphene biosensor technology to bring the benefits of lower costs, easier process, and higher throughput to the world of liquid biopsy and other DNA detection applications. "Liquid biopsy has shown tremendous promise for cancer diagnostics, but current methods have cost and process challenges to overcome," says Nanomedical Diagnostics CEO, Ross Bundy. "The grant of this patent opens the door for liquid biopsy developers to explore leveraging our graphene biosensors to overcome these issues."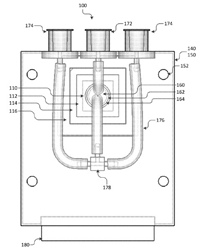 Versarien to develop aerospace composites
Versarien PLC has entered into a collaboration with Israel Aerospace Industries to develop and test its graphene technology in aerospace composite structures. IAI has agreed to buy its Nanene few-layer graphene nano-platelets technology. IAI, a defence and aerospace company, will incorporate it into composite panels for testing and evaluation with a view to developing it commercially.
US start-up produces cost-effective graphene supercapacitor 
Urbix Resources have successfully produced a graphene supercapacitor at a commercially competitive price. "Urbix supercapacitors can be customized to meet customer specifications," says Urbix CEO Adam Small. "Our supercaps can also be included in other proprietary Urbix energy storage systems."
"We feel no one has seen supercapacitors like these before," says Small, citing energy density of >75 wH/L with volumetric discharge energy density that is five times larger than average, with the lowest leakage rate in market and operational temperatures that go from -40° C to 70°C. "Urbix's supercaps have been designed and built to the highest possible standards."
Graphene footwear with improved thermal properties
Istituto Italiano di Tecnologia, Italy, in collaboration with FADEL, a leading Italian shoe company based in Tuscany, has developed a new graphene GET® technology for shoes that help keep your feet cool, Patented by FADEL, the technology gives the footwear better thermoregulation and freshness. When graphene layers are added to polyurethane used in insoles, there is augmented heat dispersion, a greater waterproofness and enhanced antibacterial properties. The insole contains only about 1 percent graphene, improving its heat dissipation by a claimed 50 percent. The product is being marketed as Freshoes.
Start-up improves capacity of  lead-acid batteries
Indian start-up Log 9 Materials claims to have made a technological breakthrough using graphene to improve the capacity of lead-acid batteries by 30%.  The life cycle had also increased by 35%.
"We are close to commercialization and trying to partner up with existing players in the market to cater to different needs of batteries in different applications, ie operational requirements are quite different for a car battery as compared to a storage battery for solar panel applications," founder and CEO Akshay Singhal said.
Awards for graphene producer
Graphene producer Imagine Intelligent Materials (Imagine IM) won two awards at the Australian Technologies Competition event. Judges selected Imagine IM as winners for the Advanced Manufacturing Award and the Energy Resources Award, rewarding the company's value proposition for delivering improved safety and smarter use of civil engineering assets, through real-time sensing and data capture.
Graphene textiles certified as 'non-irritating'
Directa Plus, a producer and supplier of graphene-based products for use in consumer and industrial markets, has announced that its Graphene Plus (G+) membrane and G+ printed fabrics have received international certification from Complife Italia (Complife), the independent toxicity testing organisation, confirming that they do not cause any irritation to human skin.