A round up of all the latest nanotechnology, nanomaterials, nanomedicine, nanocoatings, graphene and regulatory developments from 11-16 October 2017. Most content is industry related with additional information on interesting research.
This service is only available to Nanotech Magazine Subscribers.
NANOMEDICINE NEWS
US company to develop nano delivery system based on Spanish research
GB Sciences, Inc. has obtained the exclusive worldwide license to intellectual property covering a time-released cannabinoid formulation from the Universidad de Seville ("USE"), the Universidad de Cadiz ("UCA"), and the Centro de Investigación Biomédica en Red de Salud Mental ("CIBERSAM"). In collaboration with Dr. Juan A. Micó and Dr. Esther Berrocoso (UCA and CIBERSAM), this group of researchers from USE demonstrated that their time-released cannabinoid formulation provided relief from neuropathic pain in rats for eleven days from one orally-administered dose, as recently published in the journal Nanomedicine: Nanotechnology, Biology, and Medicine (http://www.sciencedirect.com/science/article/pii/S1549963417301405).
New partnership to develop novel nano immunotherapy
NexImmune and The Leukemia & Lymphoma Society (LLS) have entered a partnership to advance the Company's novel cellular immunotherapy into Phase 1 clinical testing for patients with high risk AML who have relapsed after an allogeneic hematopoietic stem cell transplant (HSCT).
NexImmune is advancing immunotherapy products based on the Company's proprietary Artificial Immune Modulatory (AIM) nanotechnology platform.  The AIM technology enables simultaneous enrichment, expansion and activation of cytotoxic T cells directed at multiple tumor-relevant antigen targets (Tumor Associated Antigens or neo-antigens) across a broad range of both solid and hematologic malignancies.
Clinical trials start for nanoparticle cancer treatment
NanOlogy LLC, a clinical-stage pharmaceutical development company, has announced the first patient has been enrolled in a clinical trial of NanoPac® (nanoparticle paclitaxel) sterile suspension administered into the prostate for treatment of prostate cancer. Part of a broad nanoparticle technology platform developed by the company, NanoPac will be evaluated for safety and preliminary efficacy in a dose-rising Phase 2(a) clinical trial following intratumoral injection of the prostate via transrectal ultrasound guidance in patients four weeks prior to radical prostatectomy.
NANOTECH INVESTMENT NEWS
Nano memory company raises millions in new investment
Weebit Nano Ltd, an Israel-based semiconductor company that is seeking to develop the next generation of memory technology, has announced the successful completion of a $2.5 million Placement. The Placement was oversubscribed with a number of existing and new shareholders participating. Executive Chairman, David Perlmutter said, "We are very pleased and thankful for the level of support we received from investors, both existing and new, which now provides Weebit Nano the funding it requires to continue to progress with its development goals. The oversubscribed placement highlights the confidence the market has in our ability to continue to hit our development milestones, and in our potential to tap into the ever-growing memory storage market that is estimated to be worth over US$40 billion.
Nanocomposites company receives $2.5 million investment
Inspiralia, a leading European new product development group has announced a strategic investment in the $2.5 million financing round of SP Nano Ltd, a world leader in innovative nanotechnology for enhanced composite materials.  Existing investors, Docor International, Consolidated Investment Group and iVentures Asia also participated in this round. In addition to its investment, Inspiralia will provide additional support via technical and laboratory services as well as taking an active role in promoting SP Nano's unique reinforcement technology in the European market, leveraging its vast local knowledge and relationships. Mr Erez Maor, Managing Director of Toro Ventures, will also join SP Nano's Board of Directors.
"We are delighted to lead this investment round in SP Nano, marking our first significant investment in Israel. As the world's most innovative technology   used to disperse and bind nanoparticles in composite materials using a protein.TheSP1 technology is proven to improve the properties of fabric-resin composite parts to create stronger and lighter parts, at an affordable price. We see numerous applications for SP Nano technologies and have a strategic plan to assist with scaling R&D and commercial activities in the European region, in line with our core expertise." said Mr. Maor.
Nano battery company raises $60 million investment
StoreDot has raised raised $60 million in a third round of financing led by the truck division of Germany's Daimler. The company has developed an EV battery that can reach a full charge within only five minutes and can keep the car running for 300 miles. StoreDot's FlashBattery technology uses layers of nanomaterials and proprietary organic compounds. https://www.youtube.com/watch?time_continue=1&v=ZkMMxmPfWVA
CARBON NANOTUBES NEWS
Company produces CNTs from CO2
Solid Carbon Products has developed a proprietary method of affordably producing carbon nanotubes from sequestered CO2. CO2 emissions have been growing steadily over the last few decades and significant consideration is now being given to reducing the carbon dioxide released through power and industrial processes.
QUANTUM DOTS NEWS
QD manufacturers awarded funding for solar cell tech
UbiQD, Inc., has been recognized as one of the newest portfolio companies in Breakout Labs, a fund within the Thiel Foundation that finances and nurtures early-stage science-based companies. As part of its commitment to investing in UbiQD's growth, Breakout Labs has awarded the quantum dot company $350,000 to focus on refining its luminescent solar concentrator technology. In addition to providing capital, Breakout Labs also offers its portfolio companies access to an elite ecosystem of follow-on funders, corporate partners, and resources to drive commercialization.
Researchers announce record for QD laser diodes
University of California Santa Barbara (UCSB) in the USA claims record low threshold currents for indium arsenide (InAs) quantum dot (QD) laser diodes (LDs) grown on silicon (Si) [Daehwan Jung et al, Appl. Phys. Lett., vol111, p122107, 2017]. The team says further that the 6.7mA threshold achieved is the lowest for any kind of Fabry-Perot laser grown on silicon. The use of QDs ameliorates problems arising from threading dislocations in lattice-mismatched crystal structures on silicon. http://aip.scitation.org/doi/10.1063/1.4993226
NANOCELLULOSE NEWS
Multi-million dollar funding for nanocellulose project
The ABBA Integrated Biorefinery project, to be built at the AVAPCO Thomaston Georgia site, will co-produce bio jet fuel and Bioplus® nanocellulose. It has received a Phase 1, $3.7 million award from the Department of Energy.
The project aims to demonstrate that co-production of high volume commodity fuels and low volume, high value co-products enables profitable biorefineries at commercial scale. ABBA integrates the biorefinery value chain by converting wood to cellulose and cellulosic sugars, which are then converted to cellulosic biojet and nanocellulose. Patented technologies and intellectual property will be provided by AVAPCO, Byogy and Petron. Technology collaborators also include the Renewable Bioproducts Institute at Georgia Tech and the University of Tennessee,Knoxville.
The $3.7 million Phase 1 DOE award was made under the program "Project Definition for Pilot- and Demonstration-Scale Manufacturing of Biofuels, Bioproducts, and Biopower". Its scope includes definition engineering, permitting, and financing activities. Upon successful completion of Phase 1, the project is also eligible for a subsequent Phase 2 award of up to $45 million from the DOE for construction and operation of the project.
GRAPHENE NEWS
First graphene ISO standard published 
The world's first ISO (International Organisation for Standardization) graphene standard has been published. The standard will provide consistency across the emerging world-wide graphene industry and accelerate the 2D material's commercial exploitation.The new international standard, led by the National Physical Laboratory (NPL), defines the terminology used to describe the many different forms of graphene and related 2D materials, supporting companies in the testing and validation of the 'wonder material'. This will provide clarity among manufacturers, suppliers, NGOs and academia, helping to unlock new applications, drive down manufacturing costs and open up industrial-scale use of graphene for applications from next-generation computer chips to smart sensors in clothing. https://www.iso.org/standard/64741.html
Flame retardant graphene fabric developed
Shanghai Kyorene New Material Technology has developed a graphene fiber that has been used to produce clothes, sportswear and underwear products. The company has also recently developed flame retardant textiles based on their product.
Graphene Quantum Dots company signs MOU
Dotz Nano Limited has signed a non-binding and non-exclusive MoU with Colorplastic SA for the implementation of GQDs into the polymer and surface modificant market. The MoU calls for a 6-month pilot project in which GQDs will be supplied by Dotz to Colorplastic for integration into their products for use in the polymers and surface treatment being commercialized by Colorplastic for use by OEMs. The scope of the pilot is to be defined by the parties, but is to cover the technological development and adaptation of GQDs to Colorplastic's products, including production runs for validating commercial scale.
Chinese graphene producer announces pilot production
China Carbon Graphite Group, Inc. a producer of graphene and graphene oxide, has announced a pilot scale production of high quality graphene oxide was successfully undertaken in a collaboration with Hunan University. The Company has collaborated with Hunan University on the graphene research since 2012, and was able to previously produce graphene oxide in a multiple-step process. Now the Company integrates multiple steps into only one process in a less than medium pilot scale. "We are pleased to achieve this great success. We believe it is an important milestone for the Company and has laid a sound foundation for us to take further steps so as to deploy a full automotive large scale pilot production in this industry field in the near future." said Donghai Yu, Chief Executive Officer of China Carbon.
He continued, "market demands for graphene are expected to be between $195 million to $1.3 billion with high growth rate in the next 5 years beginning from 2018. It is our vision to produce 10,000 metric tons of graphene oxide once we secure sufficient capital support."
US Company granted graphene biosensors patent
Nanomedical Diagnostics, a life science company pioneering the use of label-free graphene biosensors in the healthcare industry, announces the grant of U.S. Patent No. 9,765,395 by the United States Patent and Trademark Office. The patent covers use of graphene biosensors with DNA probes to detect nucleic acids, and it builds on a previous comprehensive patent for monitoring biomolecular interactions on which the company's flagship product, the Agile R100 personal assay system, is based. The new patent enables the company's graphene biosensor technology to bring the benefits of lower costs, easier process, and higher throughput to the world of liquid biopsy and other DNA detection applications. "Liquid biopsy has shown tremendous promise for cancer diagnostics, but current methods have cost and process challenges to overcome," says Nanomedical Diagnostics CEO, Ross Bundy. "The grant of this patent opens the door for liquid biopsy developers to explore leveraging our graphene biosensors to overcome these issues."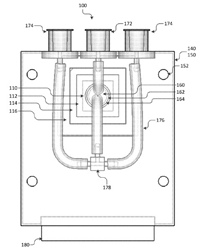 NANOMATERIALS REGULATION NEWS
The European Commission (EC) Joint Research Center (JRC) has published the NANoREG Toolbox for the Safety Assessment of Nanomaterials.  http://data.europa.eu/euodp/en/data/dataset/jrc-nano-ehs-ring-nanoreg-tb
On October 9, 2017, the European Commission (EC) began a public consultation on a draft regulation that would amend Annexes I, III, VI, VII, VIII, IX, X, XI, and XII of the Registration, Evaluation, Authorization and Restriction of Chemicals (REACH) regulation to address nanoforms of substances. See http://ec.europa.eu/info/law/better-regulation/initiatives/ares-2017-4925011_en